YES! You found the perfect article for your class assignment! But...uh...how do you get the full text again??
---
1. Copy that article title.
---
2. Go to the library's homepage (www.library.unh.edu) and paste the article title in the main search box. Now search!
---
3. On the results page, near the bottom of the article title, select the link for Available Online.
---
4. Select the link under the Full Text Availability section. On the following page, you may need to select the download PDF button.
---
5. That's it! Those full text links should take you to the whole article for your reading enjoyment.
---
6. If you cannot get access to full text through this method, please see the Finding Full Text Using Google Scholar or the Using Interlibrary Loan articles.
Otherwise...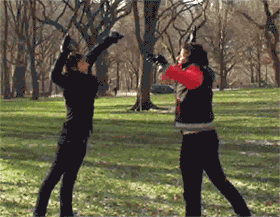 Tutorials created by: Eugenia Opuda
Gifs created in Camtasia or taken online from Giphy